COVER THE GIRL feat. Manuela Maroli
Rahman Hak-Hagir feat. Manuela Maroli
COVER THE GIRL / Milan – Italy
COVER THE GIRL feat. Manuela Maroli
Live Performance 29. 05. 2015
SPAZIO NOUR, Milan – Italy
Performers:
Manuela MAROLI
Rahman HAK-HAGIR
#01 RICKY
#02 ZELDA
#03 MARIA
#04 FABIO
#05 MEISAM
#06 MAT
#07 SARAH
#08 ANDREA
#09 RAFFAELLA
#10 AMIR
#11 DORIN
#12 ARSHAM
#13 STEFANO
#14 VIOLETTA
#15 FRANCESCO
#16 ELEONORA
#17 ALDO
#18 RUP
#19 ELSA
#20 ROCCO
#21 GIOVANNI
#22 GAIA
#23 HIRAD
#24 MATTEO
#25 CHIARA
Assistance: Mahmoud Saleh MOHAMMADI, Zeljka PANIC
Concept & Postproduction: Rahman HAK-HAGIR
Camera: Diego LONGONI, Zeljka PANIC, Rahman HAK-HAGIR
Photo-Art: Rahman HAK-HAGIR
MANUELA MAROLI aka MARKED MELODY (born in Turin in 1982) is an Italian based performance artist who began her career in 1999 the field of Body-Art as a body piercer. In 2013 she started to perform poetic acts, dedicated herself to various studies and started her own research in Performance Art. In 2014 she founded Svergin Arte to create new realities of artistic aggregation and expression; and new artistic and poetic horizons.
www.markedmelodyperformanceart.wordpress.com
www.vimeo.com/markedmelody
www.facebook.com/marked.melody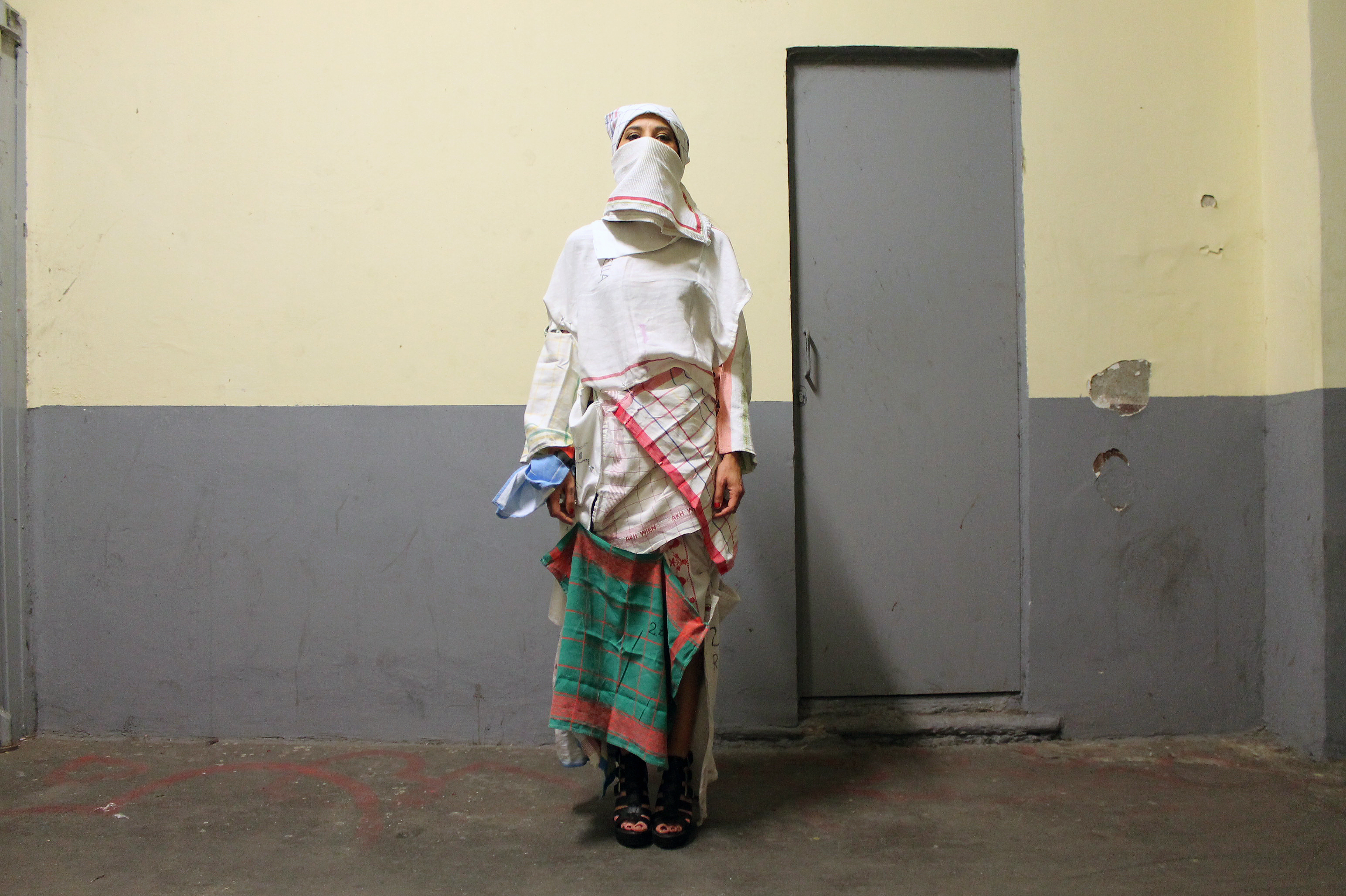 COVER THE GIRL I.
Performer: Manuela Maroli
Limited (3+2AP+1MP), numbered, signed and artist
certified photo print on alu-dubond
COVER [kuhv-er]
verb (used with object)
1. to be or serve as a covering for; extend over; rest on the surface of
2. to place something over or upon, as for protection, concealment, or warmth.
3. to provide with a covering or top
4. to protect or conceal with clothes, a hat, wrap, etc.
5. to bring upon (oneself)
6. to hide from view; screen.
7. to spread on or over; apply to
verb (used without object)
31. Informal; to serve as a substitute for someone who is absent
32. to hide the wrongful or embarrassing action of another by providing an alibi or acting in the other's place
33. to play a card higher than the one led or previously played in the round
34. to spread over an area or surface, especially for the purpose of obscuring an existing covering or of achieving a desired thickness and evenness
noun
35. something that covers, as the lid of a container or the binding of a book.
36. a blanket, quilt, or the like
37. protection; shelter; concealment.
38. anything that veils, screens, or shuts from sight
39. woods, underbrush, etc., serving to shelter and conceal wild animals or game 40.
Ecology. vegetation that serves to protect or conceal animals, such as birds, from excessive sunlight, from drying, or from predators.
41. a set of eating utensils and the like, as plate, knife, fork, and napkin, placed for each person at a table.
verb phrases
51. cover up, to cover completely; enfold. to keep secret; conceal:
idioms
52. blow one's cover, to divulge one's secret identity, especially inadvertently
53. break cover, to emerge, especially suddenly, from a place of concealment
54. cover one's /someone's ass, Slang: Vulgar. to take measures that will prevent oneself or another person from suffering blame, loss, harm, etc.
55. take cover, to seek shelter or safety
56. under cover, clandestinely; secretly
origin
1200-50; Middle English coveren < Old French covrir < Latin cooperīre to cover completely, equivalent to co- co- + operīre to shut, close, cover ( op-, apparently for ob- ob- + -erīre; see aperient )
synonyms
overlay, overspread, envelop, enwrap. cloak, conceal. counterbalance, compensate for. Cover, protection, screen, shelter mean a defense against harm or danger and a provision for safety. The main idea in cover is that of concealment, as in darkness, in a wood, or behind something: The ground troops were left without cover when the air force was withdrawn. Screen refers especially to something behind which one can hide: A heavy fire formed a screen for ground operations. Protection and shelter emphasize the idea of a guard or defense, a shield against injury or death. A protection is any such shield: In World War II, an air cover of airplanes served as a protection for troops. A shelter is something that covers over and acts as a place of refuge: An abandoned monastery acted as a shelter.
origin and history: mid-12c., from Old French covrir (12c., Modern French couvrir) "to cover, protect, conceal, dissemble," from Late Latin coperire, from Latin cooperire "to cover over, overwhelm, bury," from com-, intensive prefix (see com- ), + operire "to close, cover" (see weir ). Related: Covered ; covering. Military sense is from 1680s; newspaper sense first recorded 1893; use in football dates from 1907. Betting sense is 1857. Of horses, as a euphemism for "copulate" it dates from 1530s. Covered wagon attested from 1745.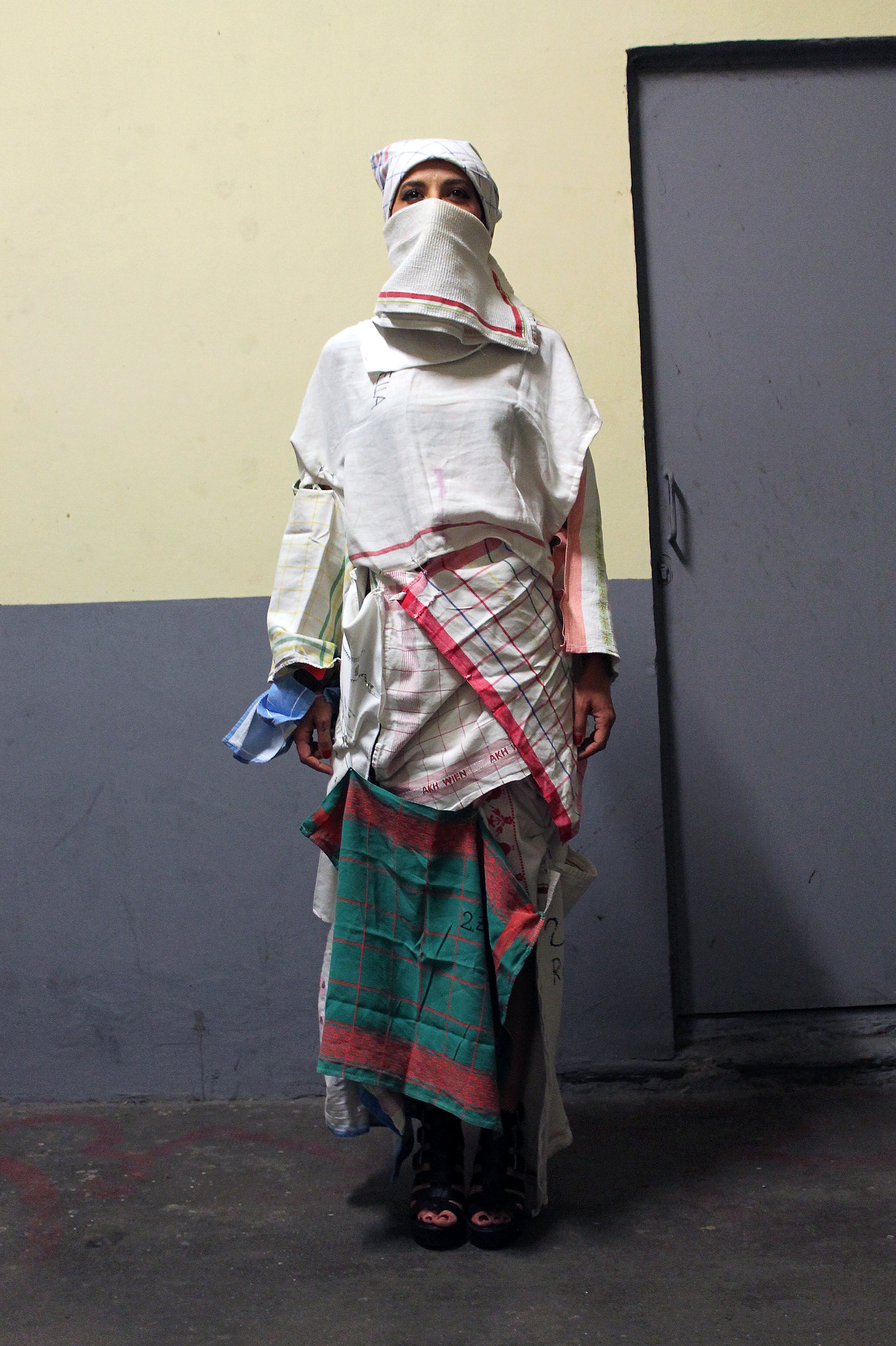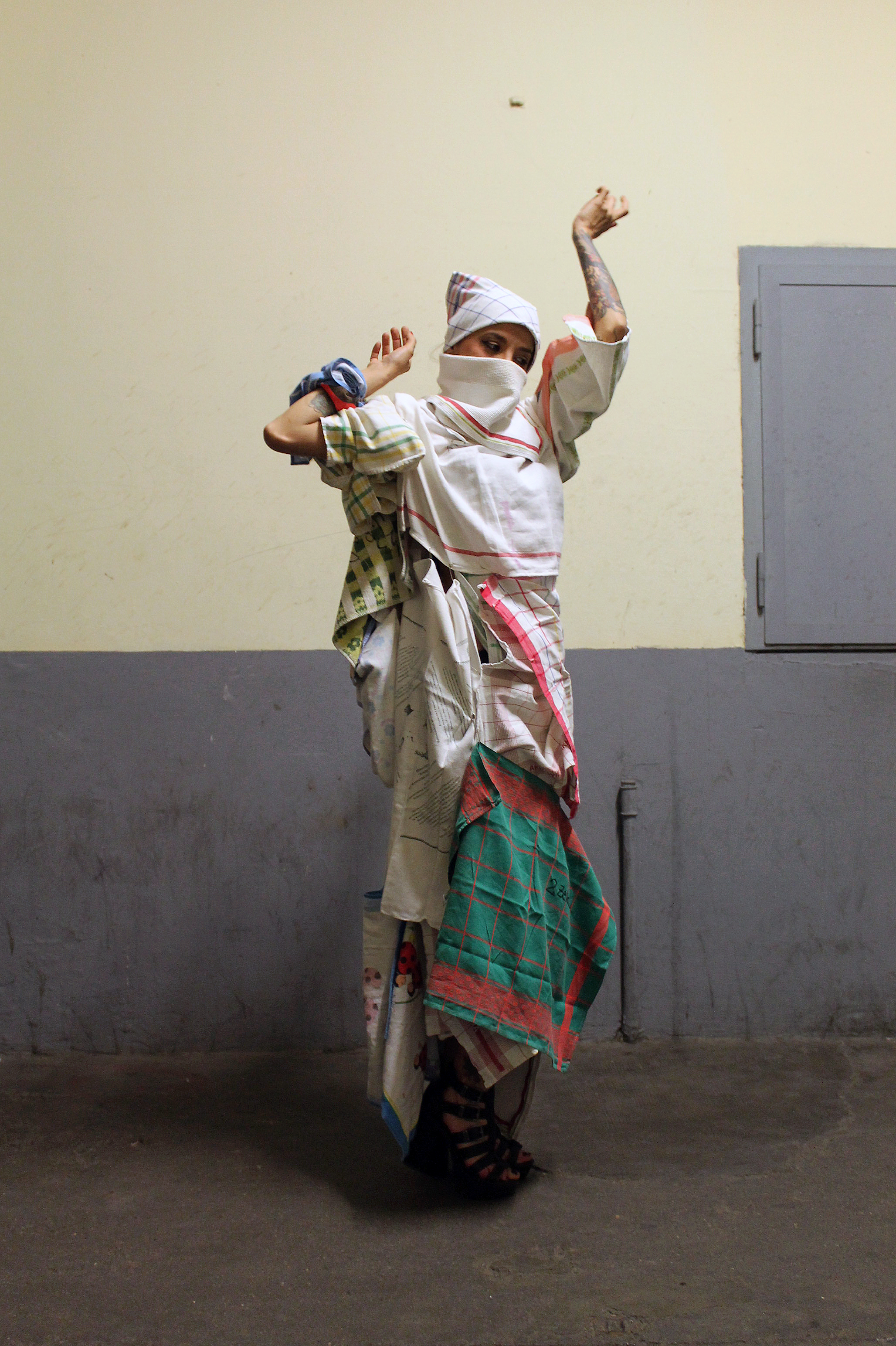 COVER THE GIRL II.
Performer: Manuela Maroli
COVER THE GIRL III.
Performer: Manuela Maroli
COVER THE GIRL IV.
Performer: Manuela Maroli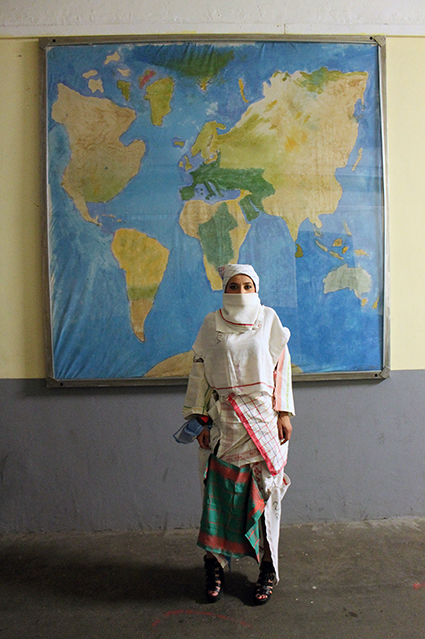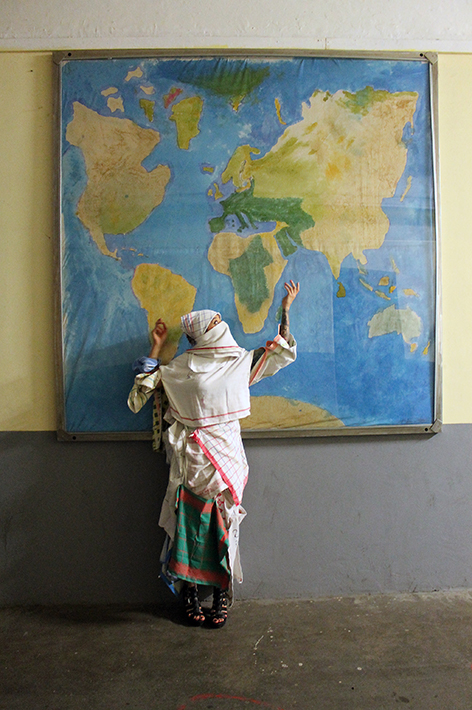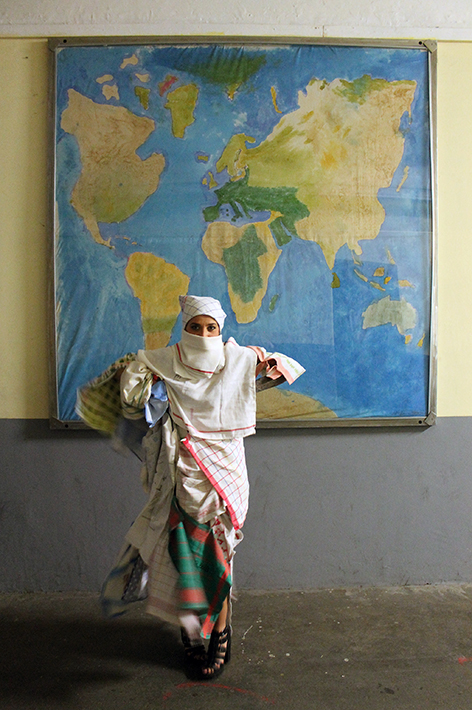 COVER THE GIRL V.
Performer: Manuela Maroli
COVER THE GIRL VI.
Performer: Manuela Maroli
COVER THE GIRL VII.
Performer: Manuela Maroli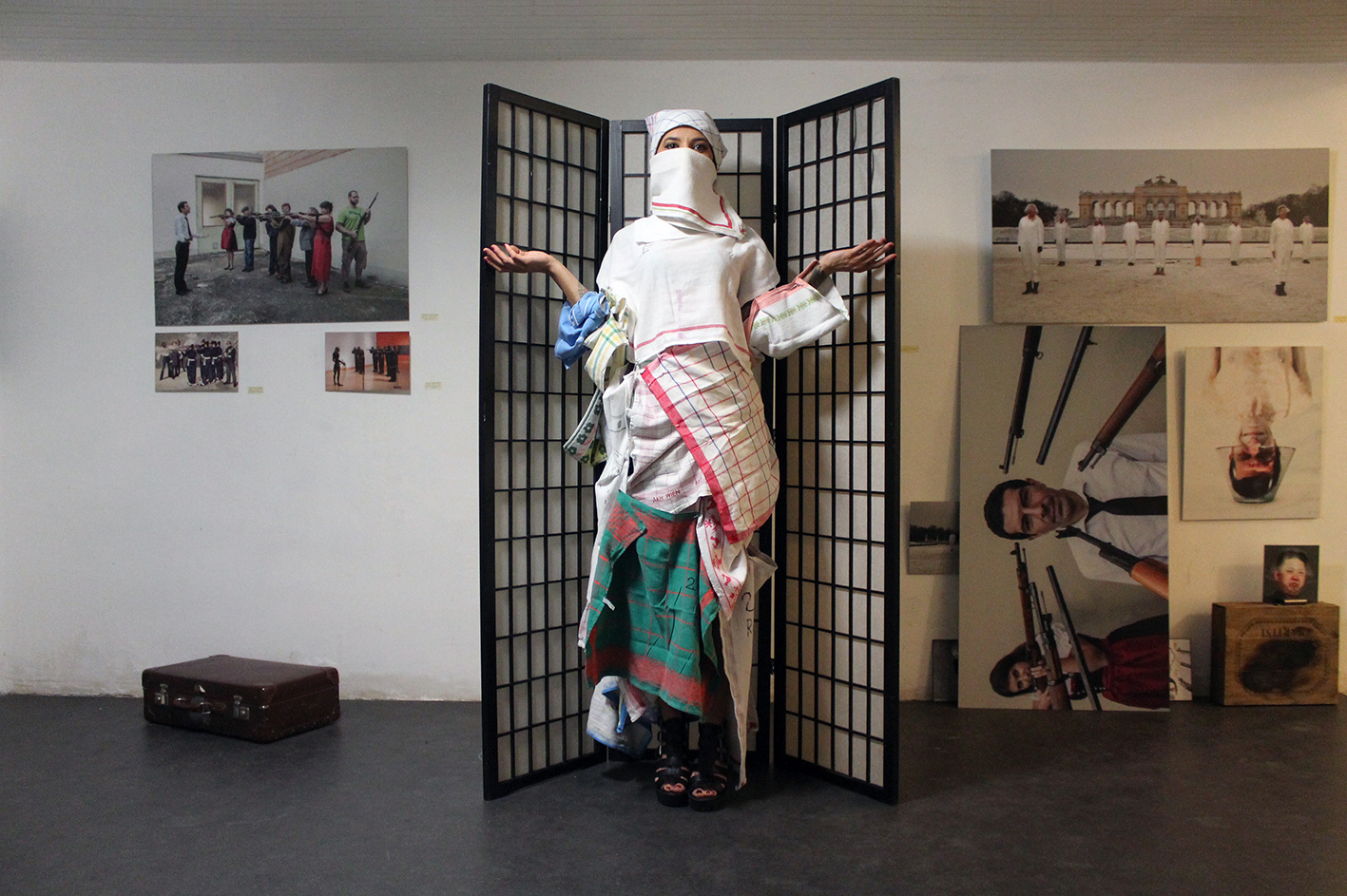 COVER THE GIRL VIII.
Performer: Manuela Maroli
Limited (3+2AP+1MP), numbered, signed and artist
certified photo print on alu-dubond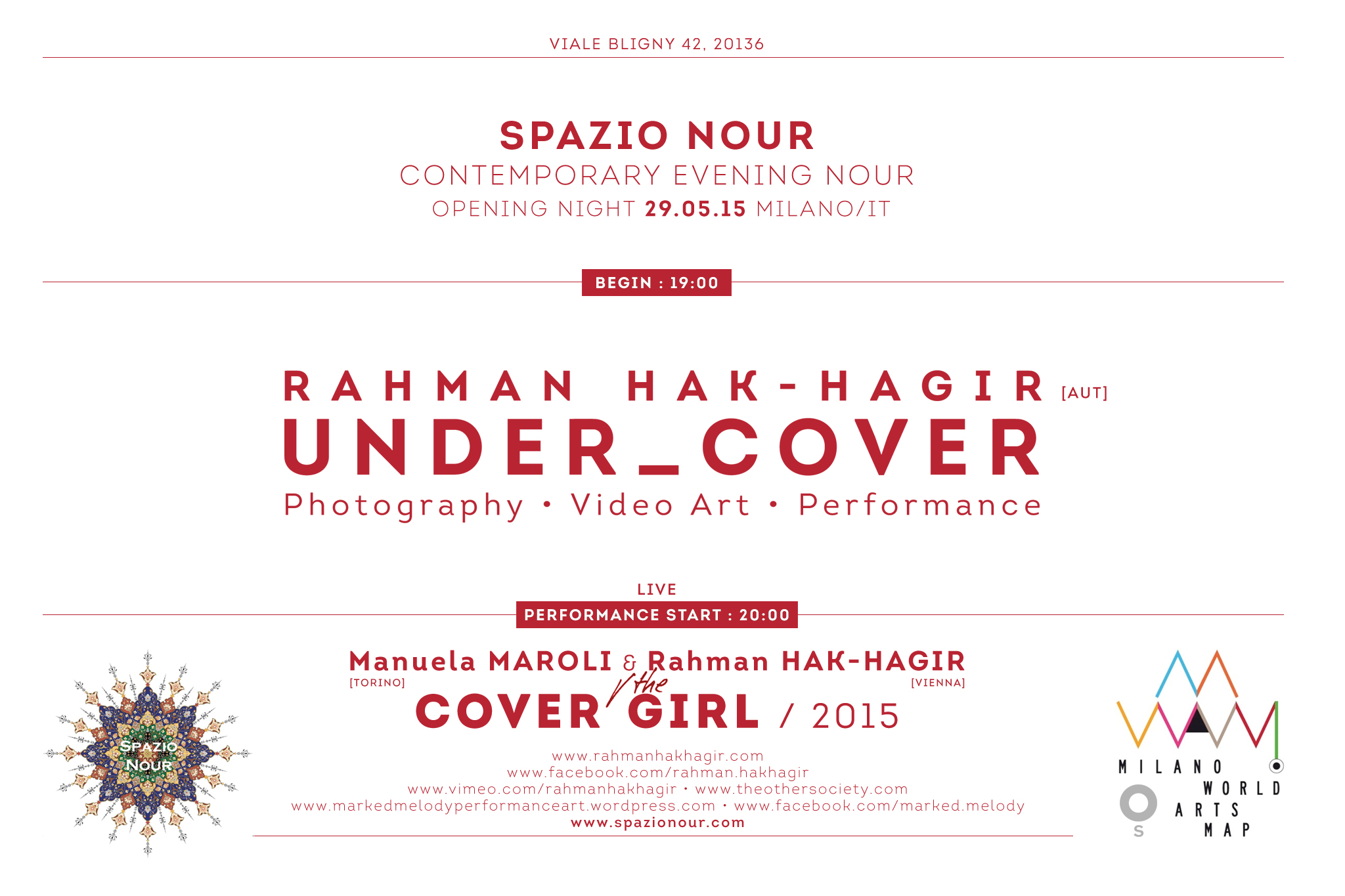 Please Note: EACH LIMITED PRINT COMES WITH ONE OF THE ORIGINAL TOWELS #01 – #25 FROM THE COVER THE GIRL PERFORMANCE:
1 limited and framed photo print on alu dubond + 1 unique, named , numbered and framed towel (same frames, same sizes)