Rahman Hak-Hagir, Alice Bachmann –
PALM HOUSE / VIALE BLIGNY 42 (2015)
Limited (4+2AP), numbered, dated, artist certified
and signed photo prints on alu dubond,
glassed & framed 120 x 80 and 150 x 100 cm
Concept, photography & art-direction:
Rahman HAK-HAGIR (AUT)
Performers:
Alice BACHMANN (FRA)
and inhabitants of Viale Bligny 42,
Milan, Italy on 6th of June, 2015
ALICE BACHMANN (92', Lyon) is a french-milan based conceptual artist using video like a protean medium feed on performance, installation and documentary approach. Finishing her master in Cinema and Video in the fine arts' school of Milan, she is working as a cameraman and film editor. On a more personnal way, she develops a research about porous limits beetween real and fiction using the videocamera as a strument to explain it. Alice Bachmann is a member of the international artist collective known as THE OTHER SOCIETY.
"Despite whatever the article to the right is saying exactly (as my italian is not so good) – For me, that special place was not "horrible" at all, in fact I loved its inspiring flair and enjoyed all the friendly inhabitants and their great hospility there. And, no – I havent seen Cattelan at all."
– R. Hak-Hagir / Vienna, November 2015
Viale Bligny 42, quel «buco nero» di Milano orribile e affascinante al tempo stesso
Uno degli artisti italiani contemporanei più quotati, Maurizio Cattelan, lo ha scelto per il suo atelier
Lo chiamavano «el Camerùn», in milanese. Con un filo di disprezzo, perché già negli anni Sessanta qui convivevano razze e continenti diversi. Oggi viale Bligny 42 è il fortino. Ma anche questo soprannome non basta a descrivere il mondo chiuso in questo cortile, dove gli spacciatori, i viados e le prostitute convivono accanto alle statue della Madonna protette dai lumini rossi e alle lapidi dei ragazzi partiti da qui e morti sul fronte della Prima guerra mondiale. Un buco nero di Milano orribile e affascinante al tempo stesso, inaccessibile e popolare, tanto da esser scelto come atelier (al primo piano) da uno degli artisti italiani contemporanei più quotati del pianeta, quel Maurizio Cattelan dei bambini-manichini, dei cavalli sospesi alle pareti e del dito medio agli yuppies di Piazza Affari.
Il passaggio dai meridionali agli immigrati è di quegli anni, oggi convivono tunisini, peruviani, marocchini, egiziani, brasiliani, filippini, cinesi e cingalesi. Ci sono anche gli italiani. Spesso sono studenti della Bocconi, che dista solo un centinaio di metri. Si affitta per poche centinaia di euro e anche qui c'è chi specula e chi, come nell'esperienza che raccontiamo nel video realizzato da Silvia Pagliuca e Chiara Trombetta, prima di chiudere il contratto di locazione mette in guardia gli acquirenti: «Deve sapere, è un palazzo un po' particolare…».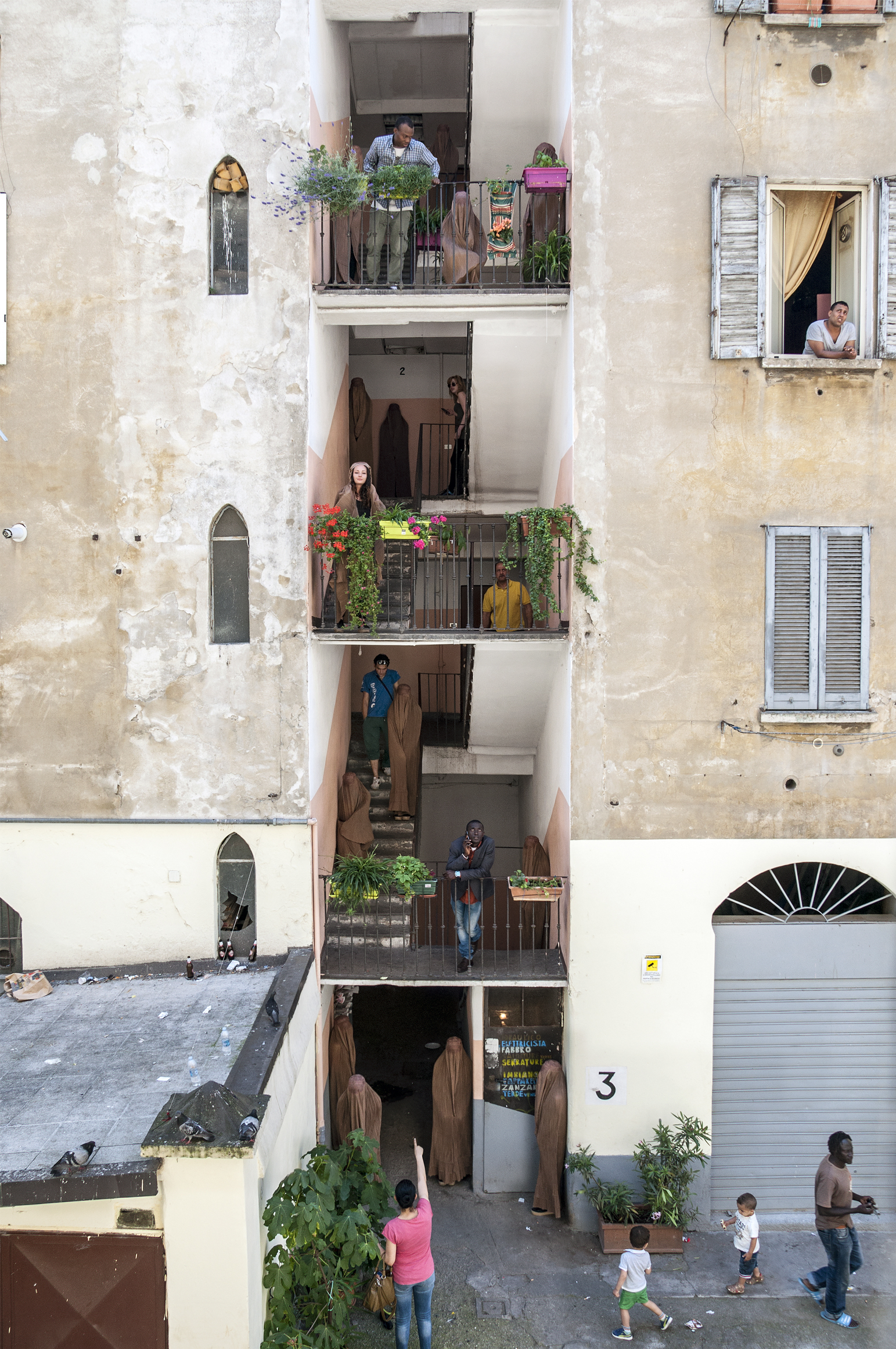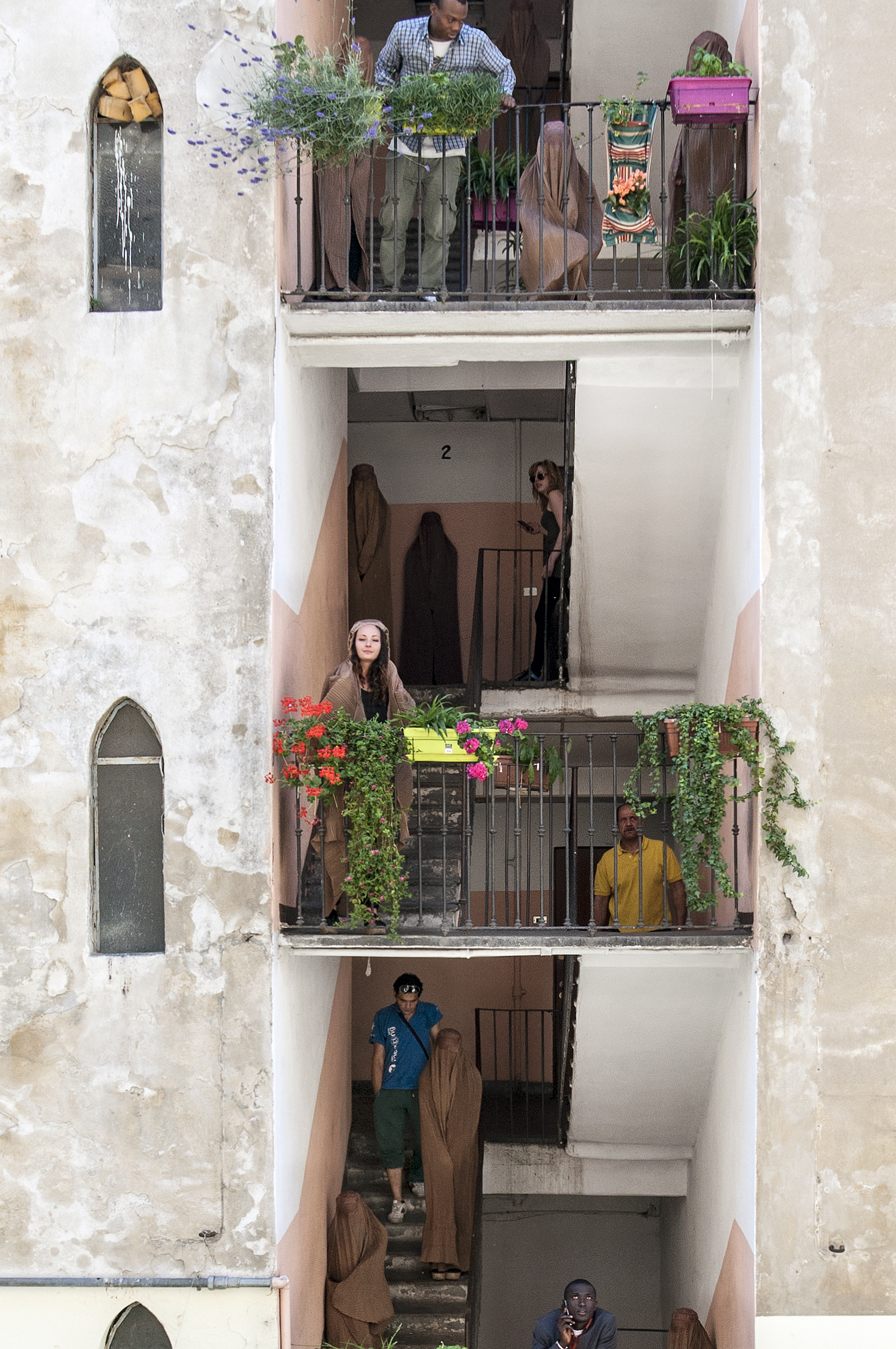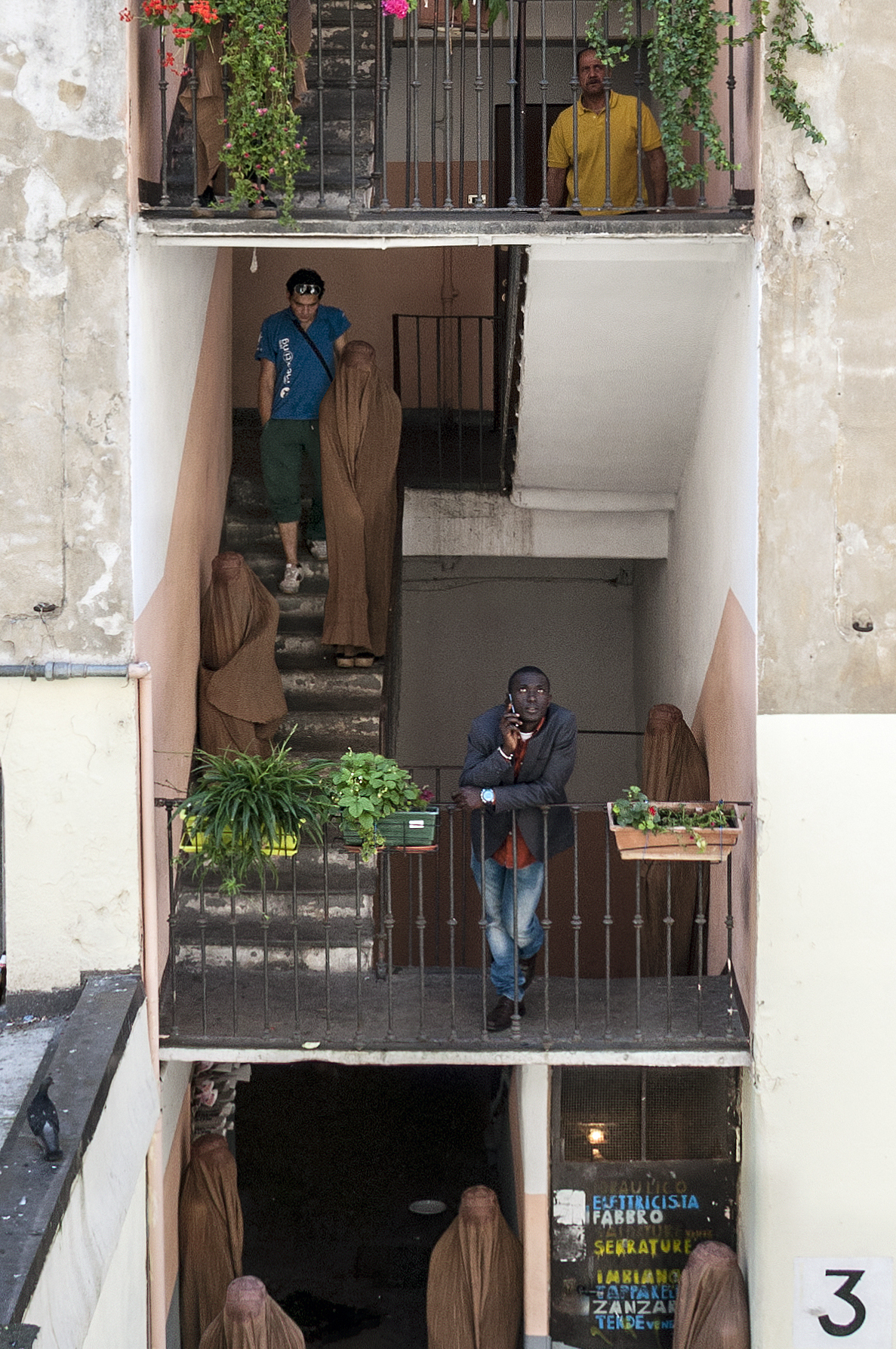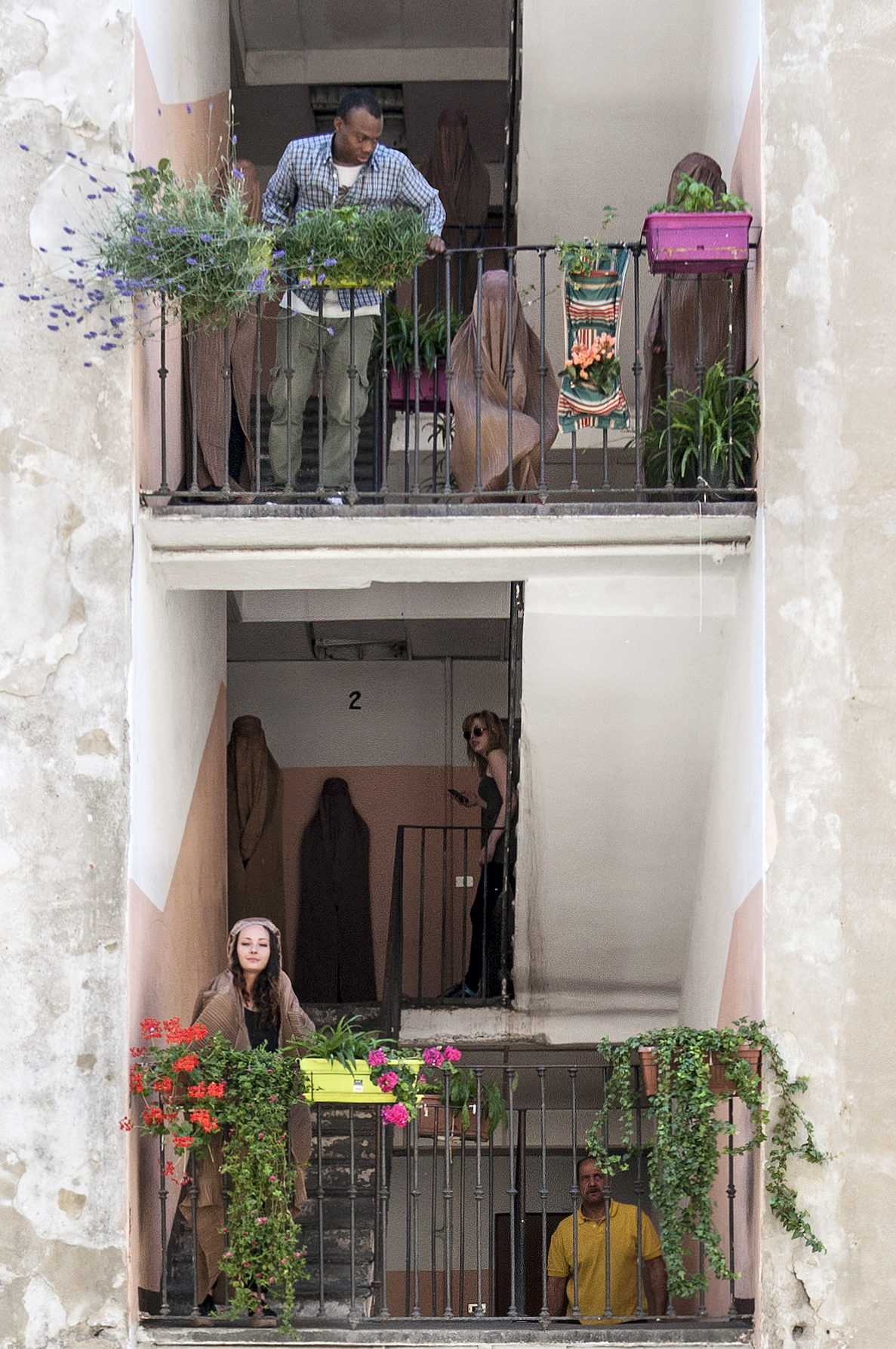 Side note:
Thats what happened there right after we finished
the Palm House shooting ~

Rahman Hak-Hagir (AUT), Alice Bachmann (FRA) – COP BOX (2015)
Making of "PALM HOUSE – Viale Bligny 42" – Photo Performance
Video Documentation / 5 Min. / HD / Milan, Italy
Performers:
Policia municipal de milan