Out of Snow White, a German fairy tale published by the Brothers Grimm in 1812:
… "The next morning the Queen consults her mirror anew and the mirror reveals Snow White's survival. Now infuriated, the Queen dresses as a comb seller and convinces Snow White to take a beautiful comb as a present. She brushes Snow White's hair with a poisoned comb, and the girl faints again, but she is again revived by the dwarfs. And the next morning the mirror tells the Queen that Snow White is still "a thousand times more beautiful". Now the Queen nearly has a heart attack in shock and rage. As a third and last attempt to rid herself of Snow White, she secretly consults the darkest magic and makes a poisoned apple, and in the disguise of a farmer's wife, she offers it to Snow White. The girl is at first hesitant to accept it, so the Queen cuts the apple in half, eating the white (harmless) half and giving the red (poisoned) half to Snow White. The girl eagerly takes a bite and falls into a state of suspended animation, causing the Queen to triumph. This time the dwarfs are unable to revive the girl because they cannot find the source of Snow White's poor health, and assuming that she is dead, they place her in a glass coffin."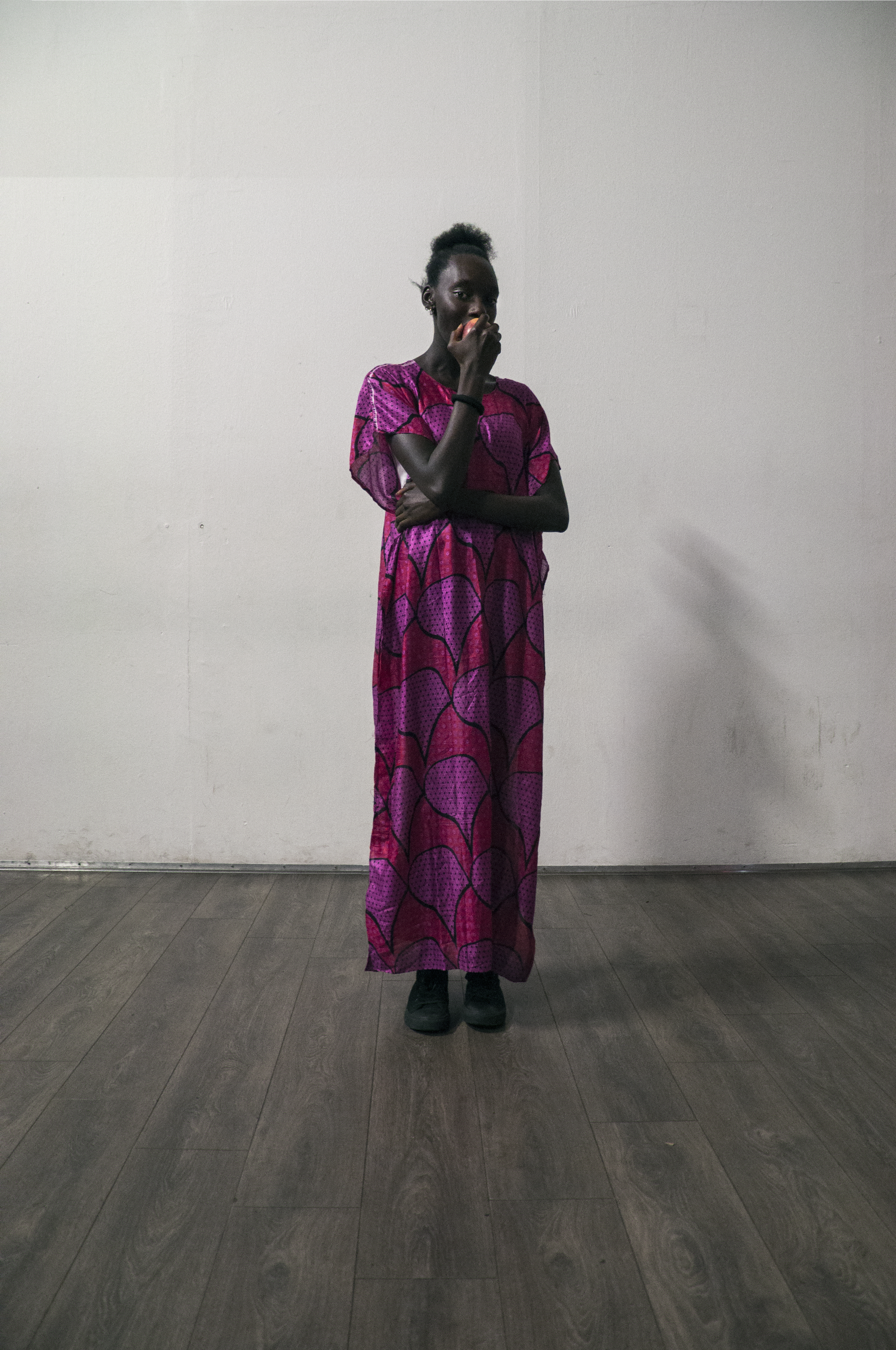 SNOW WHITE / RED DRESS (2016)
Limited (3+2AP), numbered, dated, signed and artist certified photo print
 on alu dubond (wood frame)
Concept & Photography:
Rahman Hak-Hagir (AUT)

Performer:
Mareme Diop (ITA)
– A short reference to the toxic waste pollution problem in Africa.
See also:
ALFIE NZE – Devil Comes to Koko
… Time passes and a prince traveling through the land sees Snow White. He strides to her coffin and, enchanted by her beauty, instantly falls in love with her. The dwarfs succumb to his entreaties to let him have the coffin, and as his servants carry the coffin away, they stumble on some roots. The tremor caused by the stumbling causes the piece of poisoned apple to dislodge from Snow White's throat, awakening her. The Prince then declares his love for her, and soon a wedding is planned. The couple invite every queen and king to come to the wedding party, including Snow White's stepmother. Meanwhile, the Queen, still believing that Snow White is dead, again asks her magical mirror who is the fairest in the land. The mirror says: "You, my queen, are fair so true. But the young Queen is a thousand times fairer than you".

https://en.wikipedia.org/wiki/Snow_White